8 Day
May – October
 from £400 per person
Description
Jebel Toubkal Trek Description
5-8 hours walking per day.  Fully mule / vehicle supported. Optimal Period: May – October
The Toubkal trek is a chance to experience the beauty and wonder of Morocco and the the hospitality and cuisine of the locals. This 8 day programme allows for some time initially to acclimatise to the altitude before the actual ascent of Jebel Toubkal, 4167m, North Africa's highest mountain. Along the way there will be opportunities to see some of the beauties of this magnificent area and to see several Berber villages and stay in local Berber guesthouses as well as sampling the local cuisine. The trip starts and finishes in Marrakech arguably one of the most fascinating North African cities.
Preparation
Preparation for Jebel Toubkal Trek
Physical condition: This trek requires very good physical condition including several mountain walks.

Climate: Generally speaking the weather is stable and dry during this period but mountain weather is variable and rain, wind and even snow may be encountered. Day temperatures in the mountains will range from 10°C to 25°C, nights are colder and frosts may be encountered at the highest camps.

Luggage: During the hike your luggage is carried by mules. However, you should take your personal belongings which you may need during the walks (waterproofs, warm clothing, waterbottle, camera, sun cream, etc.)

Suggested Equipment: Mountain walking boots, a day sack (30 – 35 litre) for daily requirements, warm fleece jacket or duvet, sleeping bag, water proof and wind proof jacket, walking trousers or shorts, towels, sunglasses, hat against sun and for warmth, 2 litre water bottle, protective sun-cream, first aid kit, method too purify water (mineral water can be bought at various places on trek), toilet paper and lighter.
Map and Guide for Mt Toubkal
EWP are specialised in the Morocco area and we spent many months there over several years mapping and improving the available maps across Morocco. Our map and guides support your Mount Toubkal trek. They are available directly from us HERE or on Amazon: Morocco: Toubkal Massif – Map & Guide.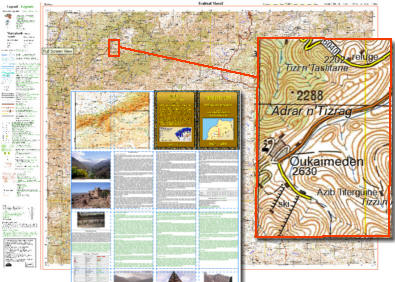 Itinerary
Itinerary of Jebel Toubkal Trek from Marrakech

Day 1: Transfer from the airport to the hotel in Marrakech.
Day 2: Drive by minibus to Tassa Ouirgane. We pass by the dramatic gorges at Moulay Brahim before continuing on to Asni, a Berber village, situated in the heart of a lush valley dominated by Toubkal. At Tassa Ouirgane we meet the muleteers at the beginning of the trek in the Azaden valley to reach the village of Id Aissa (1600m) for accommodation in a family guesthouse. 3 hrs walking
Day 3: Passing through the villages in the Azaden valley we arrive at Tizi Oussem. The trek starts with a walk in a giant garden of cultivated terraces, walnut trees and colourful ochre houses. After a picnic lunch we leave the luggage at Azib Tamsoulte and climb up to the waterfalls at Ighouliden. These are the highest in the massif at 50m, return to camp at Tamsoulte 2400m. 5 hrs walking
Day 4: We pass junipers forests on the way up to the Tizi Mzik col (2489m); then descend towards the village of Armed. Night in a guest house. 5 hrs walking
Day 5: A pleasant walk with interesting scenery leads through valleys irrigated by a system adapted for the arid mountains. We see the marabout (tomb) in Sidi Chamharouche 2310m then continue to camp at the foot of Toubkal 3207m. 6hrs walking
Day 6: Ascend Toubkal: at a height of 4167m it is the giant of the whole of North Africa. The ascent is not technically difficult but consists of walking on paths with bouldery sections. From the summit we see a superb view of the Marrakech plain, the Jbel Siroua and of the Sahara. Descend to Armed. Night in a guest house. 8-9 hrs walking
Day 7: After a half hour descent to Imlil, we reach our minibus to return to Marrakech. We arrive at the hotel in Marrakech late morning. After lunch we take a guided visit to the main historical monuments of Marrakech Medina including Bahia Palace, Saadian tombs and Koutaoubia mosque. 30 minutes walking. B&B at local hotel
Day 8:Transfer to the airport escorted by your guide.
Prices
Toubkal Trek Prices
2 People – £625 per person
3 People – £530 per person
4 People – £485 per person
5 People – £445 per person
6 or more People – £400 per person
Included in the Price
English speaking mountain guide throughout the tour
City guide for Marrakech visit
Full accommodation as detailed in the itinerary
Meals as indicated in the itinerary
All transfers
Not included in the Price
International flights
Travel Insurance
Beverages and additional snacks
Tips