Camel Trek in Tadrart
10 days Grade A+ Camel Supported
Book Now | Dates and Prices


This trip takes you to some remote places that can only be reached on foot, or by camel. We start with a visit to Leptis Magna then fly to the desert airstrip of Ghat. Our trek starts from the Al Fawr (hot springs). You will walk accompanied by camels who will carry all the equipment and if you are tired can give you a ride as well. Our route will take us up an impressive mountain trail from the desert plains near Ghat onto the remote expanses of the Acacus Plateau then down to the complex of intersecting wadis of the eastern Tadrart. Here, in shelters under overhanging rock walls, people have lived for over 8000 years leaving a unique record of their lives and the changing environment through the medium of cave engravings and paintings.

Evenings will be spent by open fires and nights sleeping in tents or under the starry sky. All food will be provided by a cook.

Itinerary
Day 1: Fly to Tripoli, night in in three star hotel.
Day 2: Visit Leptis Magna, fly to Ghat night by hot springs in the dunes below the Acacus mountains.
Day 3-8: Walking with camel support across the Acacus following old herding and camel routes. Along the way we will cross the wild Acacus Plateau then wander through the magnificent wadis with their rock art and dramatic rock-scenery.
Day 9: Drive to Germa, visit the archeological museum then continue to Sebha, evening flight to Tripoli. Night in three star hotel.
Day 10: Return flight home.

Important Information
As you will be travelling through Ghat in Libya, which lies near to the border of Algeria, you should be advised that this area is currently on the Foreign Office website as 'Essential Travel' only. Our insurance conditions require you to be advised of this formally prior to taking your trip.
  Please check their website
http://www.fco.gov.uk/en/travel-and-living-abroad/travel-advice-by-country/middle-east-north-africa/libya
  Please be advised that the current situation in the area is considered to be safe by our Guides. Should this situation change prior to your departure date you will be advised accordingly.

Trip cost
The trip costing basis is for a minimum group size of four people. If you have a group of four you could have this trip run at any date to suit you as a private trip.

Included in cost:
All transfers, transport, food and accommodation, internal flights, guides and entry fees to museums etc. Camp equipment, tents, mattress, blanket. Cook and catering equipment.

Not Included:
Visas, tips, international flights (unless requested from UK), personal spending, personal insurance and photography fees in museums etc.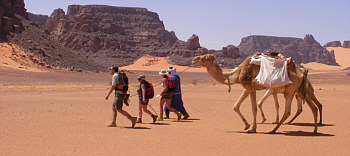 Camel Trek
upper Tashwinet Gorge